Package Includes:
(1) Crown Pro XLi3500 2700w 2 Channel PA Power Amplifier Professional Amp XLI 3500
(1) Audio Technica ATM410 Dynamic Cardioid Microphone w/ HI-Energy Neodymium Magnet
(1) Rockville RVMIC1 Microphone Mic Stand With Boom & Tripod Base (Amazing Quality!)
---
Authorized Crown Audio Dealer!
Description of XLi3500:
Powerful. Reliable. Affordable.
The XLI Series of power amplifiers from Crown represents a new era in affordable, quality power amplification. All four models in the series are powerful, rugged and reliable. They are suited for musicians, DJs, and entertainers as well as houses of worship, discos, and pubs.
The four models in the series are the XLi800, XLi1500, XLi2500 and XLi3500. They are identical except for output power.
Features include RCA and XLR inputs, user selectable input sensitivity of 0.755V or 1.4V, Speakon® and binding post outputs, stereo/parallel/bridge-mono mode, power/fault/signal presence/clip indicators, forced-air cooling; and protection against shorts, no-load, on/off thumps and radio-frequency interference.
Features:
Crown Pro XLi3500 2700 Watt 2-Channel DJ/PA Power Amplifier

RMS Power @ 4 Ohms: 1350 Watts x 2 Channels

RMS Power @ 8 Ohms: 1000 Watts x 2 Channels

RMS Power @ 8 Ohms Bridged: 2700 Watts x 1

Frequency Response: 20 Hz - 20 kHz

THD: <0.5%

Distortion: <0.35%

Slew Rate: >10V/us

Voltage Gain: 36 dB

Damping Factor: 8 Ohms, 10 Hz to 400 Hz

Signal to Noise Ratio (A-Weighted): >100 dB

Crosstalk: -75 dB, -59 dB

Input Sensitivity: 0.775V or 1.4V

Input Impedance: 20k Ohms, 10k Ohms

AC Line Voltage and Frequency Configurations: (+10%) 120V~60 Hz; 220V~50/60 Hz; 230-240V~50/60 Hz

IEC Power Connector: 15A

Stereo/parallel/bridge-mono mode

User selectable input sensitivity - 0.775V and 1.4V

Efficient forced-air cooling prevents excessive thermal buildup

Electronically balanced RCA & XLR inputs; binding post and Speakon outputs

Two level controls, power switch, power LED, and six LEDs which indicate signal presence, clip and fault for each channel

Protection against shorts, no-load, on/off thumps and radio-frequency interference

Product Dimensions: 19" x 3.5" 14.4" inches

Product Weight: 43 Lbs.
Click here for the Owner's Manual
---
How To Set Up Your RVMIC1:
Video of RVMIC1:
Video of RVMIC1 Unboxing:

Features:
Adjustable Height
Steel & Nylon Construction
Virtually Unbreakable (under normal use)
Small Cable Guiding Clips for running cables along the stand
Black Color
Adjustable Height Range: 43-70 inches
Boom: 30 inches
Leg Diameter: 0.75 inch
Top Tube Diameter: 0.6" inches
Lower Tube Diameter: 0.6" inches
Boom tube size: 0.79 - 0.39 inch
Easy adjustment, just turn the clutch and you can raise or lower the stand
---
The Rockville Difference:
Whenever you see the Rockville shield on a product you know that it has the stamp of approval. While other companies simply import products from China, Rockville manufactures the products in China to lower your cost but do so under American style supervision and quality standards to get you that USA quality that you want!
About Rockville Quality Control Procedures:
The Rockville brand stands for Quality, Innovation and Value. All Rockville products go through the most rigorous quality control standards in the industry. Products go through months of extensive testing before they reach your hands. All user functions are tested and all internal components are tested for quality. Rockville makes products that are virtually un-breakable! Rockville is one of the only brands in its class to test every concept model for weeks or months before starting production. Once production begins, Rockville sends product engineers to their factory to quality control every line of production. During production every product is tested and on top of that Rockville goes the extra mile and has their high level product engineers do an additional quality control. They test a certain percentage of all products from the production line a second time to ensure that the quality meets their vigorous standards, and to make sure that there is never a batch of products with even a slight problem. All Rockville products are backed with a full 1 year warranty, though it is unlikely that you will need to use the warranty.
Great features and great quality make Rockville a great choice.
---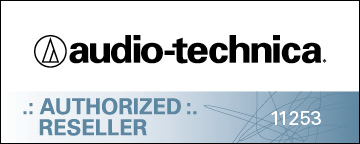 Authorized Audio Technica Dealer!
We will not be undersold! We will match or beat any advertised price! Seen a better price ? Simply make us an offer through the "make offer" button and you can save an additional 15-20 % off the uy it now price and still have all the advantages of purchasing from an authorized seller.
---
Free AT8470 QuietFlex™ stand clamp for 5/8"-27 threaded stands; 5/8"-27 to 3/8"-16 threaded adapter; soft protective pouch.
This cardioids dynamic workhorse is designed for smooth, natural vocal reproduction and low noise. Equipped with a neodymium magnet for high output, and a multi-stage grille design for excellent protection against plosives, this super-durable microphone is built to stand up to life on the road. Its cardioid polar pattern reduces pickup of sounds from the sides and rear, maximizing isolation from other sound sources and minimizing feedback.
Features of ATM410:
Tailored for smooth, natural vocal reproduction
Cardioids polar pattern reduces pickup of sounds from the sides and rear, improving isolation of desired sound source
Durable performance for professional applications
Hi-ENERGY® neodymium magnet for improved output and transient response
Excellent off-axis rejection for minimum feedback
Superior anti-shock engineering for low handling noise
Multi-stage grille design offers excellent protection against plosives and sibilance without compromising high-frequency clarity
Quiet-Flex™ stand clamp provides silent, flexible microphone positioning
Corrosion-resistant contacts from gold-plated XLRM-type connector
Rugged, all-metal design and construction for years of trouble-free use
Specifications
ELEMENT: Dynamic
POLAR PATTERN: Cardioids
FREQUENCY RESPONSE: 90-16,000 Hz
OPEN CIRCUIT SENSITIVITY: –55 dB (1.7 mV) re 1V at 1 Pa
IMPEDANCE: 300 ohms
WEIGHT: 233 g (8.2 oz)
DIMENSIONS: 170.0 mm (6.69") long, 53.5 mm (2.11") diameter
OUTPUT CONNECTOR: Integral 3-pin XLRM-type
ACCESSORIES FURNISHED: AT8470 Quiet-Flex™ stand clamp for 5/8"-27 threaded stands; 5/8"-27 to 3/8"-16 threaded adapter; soft protective pouch
AUDIO-TECHNICA CASE STYLE: T6
Advantages of purchasing from an authorized seller:
Best prices - We sell all Audio Technica Products at the minimum advertised price allowed by the manufacturer.
Full Factory Warranty
Detailed information of all products
Lifetime Customer Service by Audio Technica product Experts
Guaranteed legitimate and authentic merchandise
Please note: If you purchase Audio Technica from an un-authorized seller then you are taking a big risk. You will not have any manufacturers warranty, and there is no guarantee that the item is authentic, brand new, or even working.
6 YEAR
---