Package Includes:
(1) Rockville ROCK-U MINI 2x2 USB Computer Recording Interface 24 Bit 192Khz Home Studio
(1) Rockville RCM PRO Studio/Recording Condenser Microphone w Samsung Capacitors
(1) Rockville PRO-M50 Studio Headphones w/ Detachable Coil Cable, Case+Extra Ear Pad
(1) Pair Rockville APM5B 5.25" 250 Watt Active/Powered USB Studio Monitor Speakers
(1) Rockville RVSM1 Pair of Near-Field Studio Monitor Stands w/ Adjustable Height
(1) Rockville RockShield 1 Studio Microphone Isolation Shield w/Sound Dampening Foam
(1) Pair Rockville RRS190S Foam Studio Monitor Isolation Pads 7.5" x 9.5"/3 Angles
(2) Rockville RCTR106B 6' 1/4'' TRS to 1/4'' TRS Balanced Cable, Black, 100% Copper
---

Video of ROCK-U Mini:
How to Set Up your ROCK-U Mini:
Description:
The ROCK-U 2x2 is the ideal solution for those who need a low-latency, compact and reliable 2 in / 2 out computer USB audio interface. It is bus-powered and doesn't require any external adapters or power sources : simply connect it to your computer using the provided USB cable and you're all set.
The ROCK-U 2x2 has 2 channels.
Channel 1 features an XLR/1/4" combo jack with phantom power.
Channel 2 features a dedicated 1/4" instrument input.
Additionally, the PAD switch on CH1 allows you to properly gain stage your input source and have a clear signal with a lot of headroom. The signal/clipping indicator lets you monitor your signal in real-time and keep an eye on the sensitivity of your inputs in order to avoid distortion.
Our low noise studio-grade preamps offer clean and clear signal with good signal-to-noise ratio and lots of headroom. Whether you're plugging in a microphone, guitar, bass or synth, the preamps will accurately capture the source with no added artifacts. The 24 Bit / 192 kHz sample rate lets you achieve the highest digital resolution when recording.
The direct/usb monitoring switch lets you choose if you want to monitor your input signal in real-time with 0ms latency. 2 x 1/4" TRS outputs with dedicated volume control provide connectivity to your favorite studio monitors. There is an extra 1/4" headphone out with separate volume control, for monitoring with studio headphones.
Finally, the high-quality metal casing ensures long-term durability for this convenient, compact and portable interface.
Features:
Rockville ROCK-U 2X2 USB Computer Recording Interface

24 Bit 192Khz sampling rate

2 Inputs and 2 Outputs

Ch 1: XLR/1/4" Line/Mic input Combo Jack

CH 2: ¼" TRS input with Hi-Z switch for connecting guitar, bass etc

Studio-grade mic preamps with low noise and lots of headroom

48v phantom power for use with condenser mics

Bus powered lets you record on the go (Can get power through the USB of your computer or laptop or power bank)

USB 2.0 high speed

Dedicated 1/4" TRS outputs for connecting studio monitors

¼" headphone output

Flexible routing options for mixing and assigning input streams to outputs

Frequency Response: 20-20KHz\

Thick metal housing

Signal and clipping indicator lights

Ability to monitor direct signal in real-time (with 0ms latency) or USB playback

Playback/USB button

Perfect for home studios, recording on the go, or recording a live show

Very versatile with low latency

Can record dynamic/condenser mics, instruments, and line level signals

Independent volume control for channel 1 and channel 2

Main mix volume control

Headphone volume control

Compatible with all Windows and MAC computers and laptops

Weight: 0.9 Lbs

Dimensions: 3.1" L x 4.5" W x 1.8" H (Inches)
---
How to Setup a Rockville Condenser Microphone with Your Computer:
Video of RCM PRO:
What's in the Box:
(22 gauge, 10 feet) XLR to XLR Cable - To connect to the phantom power input on your mixer or interface

(22 gauge, 10 feet) 3.5mm to XLR Cable - To connect the microphone to your computer

Metal Shock Mount

Large Wind-Screen/Pop-Filter

Owners Manual

Warranty Card<
Description:
Introducing, the Rockville RCM PRO, our newest high-quality, professional studio/recording condenser microphone! With it's large diaphragm it provides smooth, natural sound and low noise, it also delivers great bass, mids, and highs on all of your recordings. This microphone is very sensitive to incoming sounds to give you the best possible sound! In addition, it includes a 25mm cartridge that allows for a bigger pickup area to pick up incoming sound. The cartridge is the most important aspect that determines the sound quality, and the RCM Pro has one of the best quality cartridges available for any microphone under $150. This microphone sounds better than other name brand microphones that cost twice the price!
The body of the microphone is made of a special zinc metal material. The super strong construction prevents noises from shocks and vibrations. This is especially important when recording loud music including drums and bass. The microphone head is made of strong, high quality steel and features a one-piece microphone head design. Most microphones will have a microphone head that is 2 pieces glued together. Our one-piece microphone head ensures longer life, and better durability. In addition, it helps to eliminate unwanted vibrations that may occur. This microphone has two capacitors (22µ50V and 47µ16V). We used Samsung capacitors from Korea, which are the highest quality capacitors on the market. These are important to help stabilize the voltage so that your recordings are consistent throughout, even if there are sudden changes in the volume or frequency ranges. We compared this microphone to the 3 most famous brands of microphones and the RCM PRO outperformed similar microphones that sell for over double the price!
Features:
Rockville RCM PRO Professional Studio/Recording Condenser Microphone

Best Applications: Home-Studio, Recording Studio, Broadcasting, Podcasts, Live Performances, and much more!

Large diaphragm for smooth, natural sound and low noise

25mm Large Cartridge - Allows For Bigger Pickup Area

Two Large Capacitors: 22µ50V and 47µ16V

Large Diaphragm - Provides Smooth Natural Sound, and Great Bass, Mids, & Highs

High SPL Handling and Wide Dynamic Range

Cardioid Polar Pattern Reduces Pickup of Sounds From Sides and Rear, Reducing Unwanted Noise

Element: Fixed-charge back plate, permanently polarized condenser

Microphone Head is Made of High Quality Steel featuring One-Piece Head Design

Microphone Body Is Made of Special Zinc Metal Material - Prevents Noise From Shock and Vibrations

Frequency Response: 20Hz - 20 kHz

Open Circuit Sensitivity: -30dB ±2dB (0dB = 1V/Pa @ 1 kHz)

Impedance: 100 Ohms

Equivalent Noise Level: = 23 dB A (IEC581-5)

Maximum Input Sound Level: 142dB SPL (THD = 1.0% @ 1 kHz)

Electrical Current: ?500Ua

Noise: 20dB SPL

Dynamic Range (Typical): 124 dB, 1 kHz @ Max SPL

Signal-to-Noise Ratio: 74 dB, 1 kHz @ 1 Pa

PCB Layout: Surface Mount

Fixed Crossover Filter Cutoff Frequency: 50Hz - 16 kHz

Power Requirements: 48V DC Phantom Power

Output Connector: 3-Pin XLR

Product Weight: 0.74 Lbs

Product Height: 7.44" inches

Shipping Weight: 3.32 Lbs

Shipping Dimensions: 13.98" x 7.87" x 3.15"
---
Includes:
Pro-m50 headphones

Detachable cable

Soft suede and leather ear cushions (interchangeable)

Leather hard travel protective case

Gold plated ¼" adapter
---
Includes:
PRO-M50 headphones

Detachable cable

Soft suede and leather ear cushions (interchangeable)

Leather hard travel protective case

Gold plated ¼" adapter
All About Your PRO-M50:
Description:
Rockville brings you studio quality headphones and at an incredible price with its new PRO-M50 headphones. These are professional grade headphones that are guaranteed to ourperform headphones that cost triple the price! These feature ergonomically designed swiveling cups with interchangeable soft suede or leather finish cushions (included). The ear cups seal tight for excellent sound isolation and minimal bleed. Inside these cups you'll find 40mm Neodymium drivers delivering accurate audio with an extended frequency range for clear and rich bass, and a full frequency range of mids and highs. These are closed back style headphones specifically designed for studio monitoring. These play back the sound with a flat frequency curve so you can hear your music exactly how it was recorded. With the PRO-M50 you can expect to hear every detail of every song with extreme accuracy. These headphones cover full frequency ranges; even extending a bit past the frequencies that the human ear can hear.
The headband is made of soft leather, offering ultimate comfort even after extended wear. The beautifully designed stainless steel headband frame and arms are strong and durable. A detachable 51" coiled 100% Oxygen Free Copper cable with a gold plated 3.5mm plug is included along with a gold plated ¼" adapter to ensure the best possible signal. A hard leather case is included to store and protect your new investment when you are on the go.
Amazing sound quality will make these your go-to headphones whether in the studio or out and about!
Features:
Rockville PRO-M50 Studio Headphones w/ Detachable Coil Cable, Case+Extra Ear Pad

Professional High-Definition Studio Headphones

40mm Neodymium drivers

Ergonomically designed swivel ear cups

Supreme sound isolation

Accurate sound reproduction

Minimal bleed

Sturdy and durable steel headband and arms

Soft leather headband cover

Interchangeable leather and soft suede ear cups covers included

Detachable 51" coil cable made of 100% Oxygen Free Copper (158" fully extended)

Gold plated 3.5mm connector

Gold plated ¼" adapter

Hard leather carrying case

Stainless steel headband frame and moving arms are durable and long-lasting
Specifications:
Style: Closed-Back

Design: Circumaural

Transducer Type: Dynamic

Driver: 40MM

Sensitivity: 97±3dB

Impedance: 32ohm

Frequency Response:10Hz - 25KHz

Max. Power: 600MW

Rating Power: 260MW

Net Weight: 290g (with cable)
---
How to Set Up Your APM Series Speakers:
All About Your APM5 Studio Monitors:
Unboxing video of APM5B:
Description:
The Rockville APM5 Active Studio Monitor Comes in Pairs and each monitor will be bi-amped. What this means is that there is a separate amp for the highs and a Separate amp for the lows! Each speaker has 125 watts peak output power and 62.5 watts RMS giving you a total of 250 watts peak and 125 watts RMS per pair. We spent a lot of time developing the most premium studio monitors we ever built! I am very pleased and excited to talk to you guys about what we did to make these speakers sound as good as they do. If you are an audiophile you will find what we did to be quite amazing. Keep in mind, the only reason our price point is not 300 % higher is because you are buying manufacturer direct. We are one of the leading speaker manufacturers in the USA, and we have a state of the art manufacturing process. There is a lot to talk about so I will break it down into sections.

Description of the enclosure:
We chose a wooden enclosure as opposed to a plastic enclosure. Your studio is made of wood for a reason. The sound characteristics of high quality wood are better than plastic. We only use the highest quality MDF wood. We do not bother with cheap particle board material when we want to make the best speakers. The thickness is 0.5" around and the front board is a full 1" thick to give you the best sound quality possible. The enclosure is built with the perfect amount of air space to maximize sound quality for a studio.

Every studio or computer room should look beautiful. We believe speakers should enhance the look of a room. We make these speakers in 3 beautiful finishes. Painted black, painted white, and wood finish. We use "baking paint" made for wood surfaces. It is long lasting and the best paint for speakers! We went with a beautiful finish that is mostly matte with a slight shine to it. Our designers spent countless hours on the color to make sure it is not only beautiful but elegant as well to improve the appearance of your studio or room. We kept all the controls on the back of the speaker, which will keep the speaker looking very modern and elegant. The rear port is built to perfect spec to enhance the sound. The tweeter has a curved front bezel to make the highs crystal clear and distortion free.

Amplifier and Speaker Components Details:
To get the most efficiency we use a class "D" amplifier. We use the best quality components from the most reputable circuit manufacturers in the world in order to produce crystal clear sound. Most brands do not like to reveal what's in the guts of the speaker. We feel differently. We want you to know what is inside so you realize how good of a value we are offering and also so that you can understand how good these really are. We use ADAU 1701 for audio processing and TPA3116 for amplification. These are both known to be best in class circuit designs. These components are amazing and allow us to adjust the sound via soft programing on a computer during the design stage to get the perfect sound. ADI and TI are the names of the makers of these IC's. Most people do not know brand names that make circuits; but these are the most famous and reliable in the industry. Only very high end manufacturers like us use these components.

For highs, we have Ferro fluid enhanced ¾" neodymium silk dome tweeters with metal grill protection. If you are an audiophile I am sure you have tested and love the sound of silk dome tweeters. The neo magnet is strong and can handle a lot of heat. This enabled us to beef up the amplifier power without worrying about melting and blowing the tweeter. The highs on these sound really good! I cannot wait for you all to hear it in person, because I cannot describe how good these sound! You really need to listen to them in person.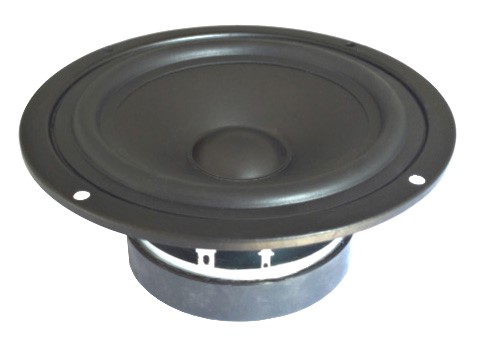 We use a 5.25" woofer. This will out-perform a regular 5" woofer any day! The bass sounds amazing on these! Very clear and punchy! The woofer has an injection molded polypropylene cone. This is an engineered type of plastic that is used on many speakers today. It is strong and puts out a great sound. The rubber woofer surrounds increase sound quality and eliminate unwanted distortions. They sound better than foam surrounds in my opinion, which is why we went with rubber. The computer optimized electronic crossover network supplies amazing sounding highs, lows, and mids. Basically it filters out unwanted frequencies from each component so that each speaker plays the right frequencies so that the speaker can go loud without distorting. We use very high-grade crossover filters in our speakers. The specially wounded voice coils produce accurate response along the entire frequency spectrum. We developed the speakers with the most optimized magnet structure, cone, and cabinet space with the goal of reproducing the sound to play back exactly the way it was recorded!

Added benefits:
The rear-firing port is shaped and designed by sound engineers to reduce port turbulence and deliver distortion free top sound quality!

Our factory uses the latest Precision Glue Machine (Over 500 meter Tunnel Oven). But you may ask why am I talking about glue? Well, actually, the glue on speakers is of the upmost importance. If the glue does not hold up, the speaker will be done and blow. We use the latest machinery to manufacture these speakers. The SPL of the speaker goes up when you use better glue and a better machine that can secure the glue in place. If the glue can handle more heat than your speaker can handle more power!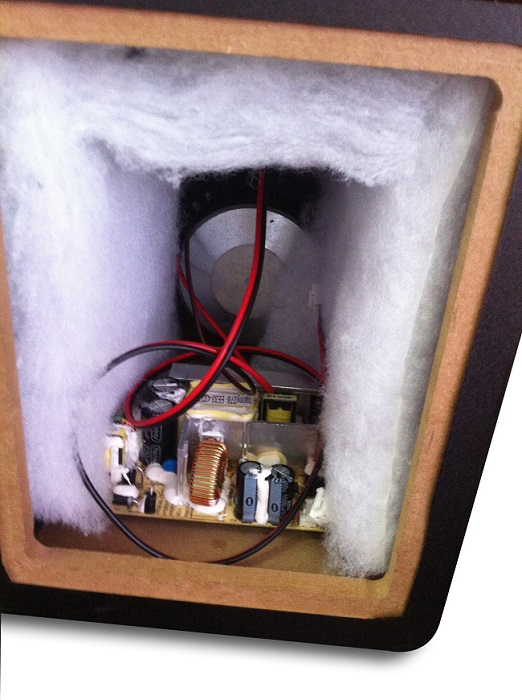 Thick "Wadding" protects the inside of the speaker cabinet. This can be seen if the speaker cabinet is removed. Basically, wadding is a white chemical silk type of material that we put inside the speaker cabinet for multiple reasons. It helps to make the sound more clear, and at the same time protects all the parts inside the speaker. This material is also a fire retardant. This is unique to our speakers. Most other brands do not take this step due to the cost of the material, but it is a game changer if you are trying to create the best speaker!

Inputs and Outputs and Rear Panel Controls:
As I mentioned earlier, we kept all the controls on the rear of the unit to make the speaker look clean and modern. The volume control, bass, and treble controls are all found on the rear of the unit.
These Monitors have all your standard studio inputs and outputs such as a ¼" and XLR combo input jack, RCA input, 3.5MM headphone output. We also added a USB port. The reason we did this is because instead of having to use the 3.5MM or 1/4" TRS jack, you can now directly select the speakers as an output on your computer without using an interface! And you will get true stereo sound!

Features:
Rockville APM5B 5.25" 2-Way 250 Watt Powered USB Studio Monitor Speakers in Black (Pair)
125 Watt RMS
Two-Way Active Studio Monitor Speaker System
Quad Amp Design: Each Driver Features Frequency Specific Independent Amplifiers
Enclosure is made of top quality MDF wood. Our enclosure is not particle board, it is true high-grade MDF! The enclosure is 0.5" thick while the front board of it is a full 1" thickness to give you the ultimate best sound quality!
Comes in 3 enclosure finish options Wood finish painted black. Wood finish painted white. Wood finish with vinyl front board
We use "baking paint" made for wood surface. It lasts long and is the best paint for speakers!
Beautiful finish is matte with a slight shine to it. Our designers spent a lot of time on the color to make it beautiful and elegant looking to improve the appearance of your studio or room
The enclosure is built with the perfect amount of air space to maximize sound quality for a studio
The port is built to the perfect spec to enhance the sound
Full Range Class "D" Amplifier Circuitry with Auto-Switching Power Supply
LED Power on Indicator on Rear Panel
Ferro Fluid Enhanced ¾" Neodymium Silk Dome Tweeter With Metal Grill Protection
Tweeter has ¾" voice coil diameter
Curved Front Bezel Design Eliminates Standing Wave Distortion
Injection Molded Polypropylene Cone Woofer
Rubber woofer surrounds increases sound quality and eliminates unwanted distortions
Computer Optimized Electronic Crossover Network Supplies Amazing Sounding Highs, Lows, and Mids
Rear-Firing Port Shaped and Designed by Sound Engineers to Reduce Port Turbulence and Deliver Distortion Free Top Sound Quality!
We developed the most optimized magnet structure, cone, and cabinet space that reproduces the sound to play back exactly the way it was recorded!
Specially Wound Voice Coils Produce Accurate Response along Entire Frequency Spectrum
Distortion-Free Playback Even at Max Volume Listening! Very Clean Sound!
Our factory uses the latest Precision Glue Machine (Over 500 meter Tunnel Oven). To put it in simple to understand terms; the glue on speakers is of the upmost importance. If the glue does not hold up, the speaker is done. We use the latest machinery to manufacture these speakers. The SPL of the speaker goes up when you use better glue and a better machine the secure the glue in place
Thick "Wadding" protects inside the speaker cabinet – Wadding is a white chemical silk type of material that we put inside the speaker cabinet for multiple reasons. It helps to make the sound come out more clear, and it also protects all the parts inside the spe
1 YEAR
---