Package Includes:
(1) Rockville K5 W8K5S4 8" 800w 4 Ohm Car Audio Subwoofer Sub 200w RMS CEA Rated!

(1) Rockville RQB8 Single 8" Side Ported Subwoofer Sub Box Enclosure w/Bed Liner

10 Drywall Wood Screws (Wood screws are the type of screws; the screws are actually made of metal)

12 Feet of 14 AWG Blue Speaker Wire

2 Spade Terminals
---

Video of K5 Series UPDATED:
Features:
Rockville W8K5S4 K5 Series 8" 4-Ohm Car Subwoofer

Peak Power Handling: 800 Watts

Program Power Handling: 400 Watts

CEA Rated RMS Power Handling: 200 Watts

1.5" 4-Layer Black Aluminum Voice Coils Wound with OFC (100% Copper) Wire

The wire we use to wind the voice coil is imported from Japan which is way better quality than the standard China wire

30 Oz High Quality Magnet

Cast Iron Basket With Black Sanded Finish

Fiber Reinforced Ultra Stiff Black Non-Pressed Paper Cone – This cone is very efficient which makes the speaker sound louder even without requiring a lot of power to push it

Thick Foam Surround Provides Incredible Sound Quality With Minimal Distortion

Blue Stitching Cone Reinforcement Ensures Long Life

Paper Dust cap is light weight and efficient helping the sub to play louder even if your amp is not so powerful

Chrome-Plated Binding Post Terminals - These are the best terminals on the market and they accept any gauge wire

Impedance: Single 4-Ohm Voice Coils

Vented Hole on T-yoke Enhances Heat Dissipation

Rubber Boot Magnet Covers Make the Woofer Look Nice and Protects the Magnet

Mounting Gasket with Rockville branding looks great and Makes it Easy To Mount the Subwoofer Air-Tight

High BL Magnetic Motor Gap

We use the highest grade black glue that handles extremely high temperatures which allows our woofer to handle even more power than they are rated

Cutout Diameter: 7.16 inches

Mounting Depth: 3.54 inches

Frequency Response: 37 Hz - 1.3K kHz

5mm T-Yoke + 5mm Washer

Sensitivity: 85.7dB

Sealed Enclosure Volume: 0.35 – 0.85 Cubic Feet

Vented/Ported Enclosure Volume: 0.6 – 1.2 Cubic Feet

Weight: 5.2 Lbs.

Shipping Weight: 6.5 Lbs.

Shipping Box Dimensions: 10.25x 10.25 x 8.1 Inches
Detailed Info:
Body: Non-Pressed Paper

Gap Plate Inside Diameter: 60mm (2.36 inches)

Gap Plate Outside Diameter: 120mm (4.72 inches)

Gap Plate Thickness: 25mm (0.98 inches)

Yoke Outside Diameter: 114mm (4.48 inches)

Yoke Thickness: 5mm (0.20 inches)

Yoke Pole Diameter: 38mm (1.5 inches)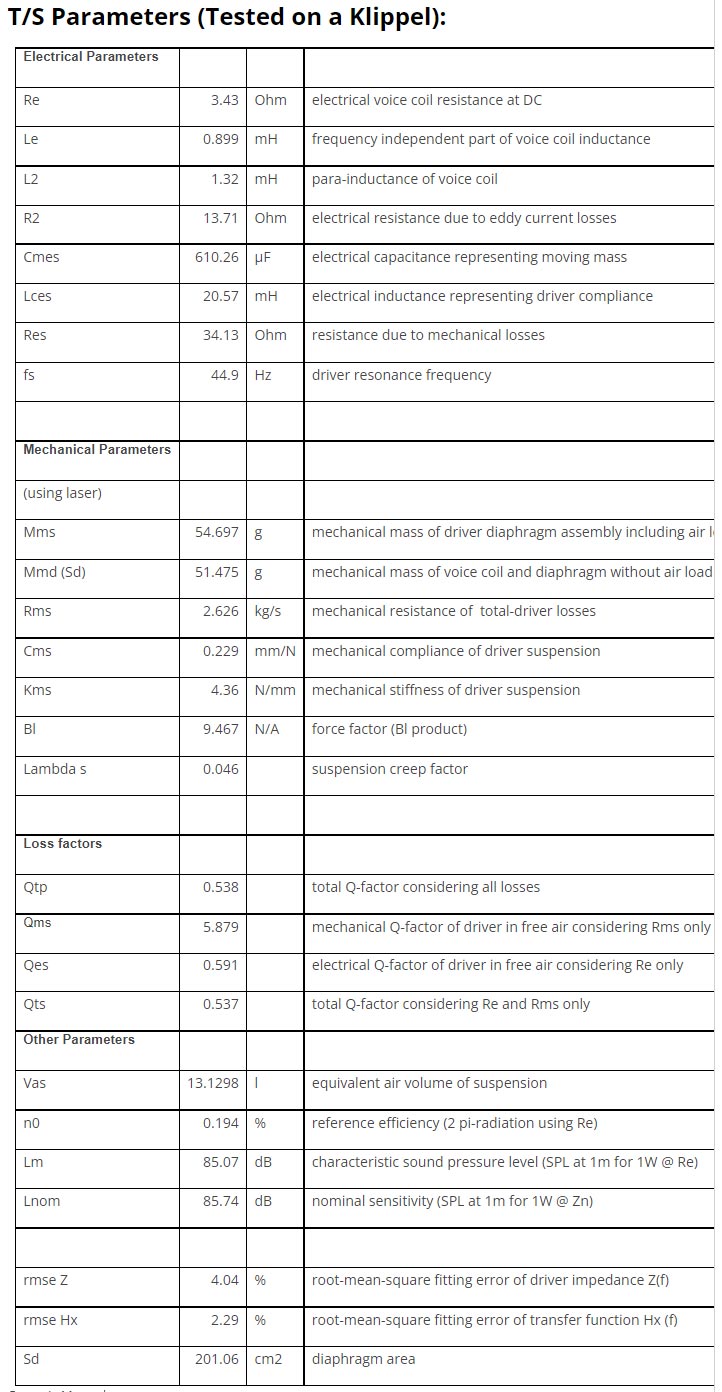 ​​
---
Features of RQB8:
Rockville RQB8 Single 8" Side Ported Subwoofer Enclosure w/ Bed Liner

Finished with Durable Bed Liner

3/4" MDF

High Quality Spring Loaded Terminals

Air Space: 1.0 Cubic Feet

Tuning Frequency: 34 HZ

Product Dimensions (H x W x D): 15" x 18" x 13" inches
---
Complete Dual Subwoofer Enclosure Installation Kit!
Includes:
20 Drywall Wood Screws (Wood screws are the type of screws; the screws are actually made of metal)

20 Feet of 14 AWG Blue Speaker Wire

4 Spade Terminals
This accessory package includes everything you need to install two subwoofers into an enclosure, and wire your enclosure to your amplifier. This package is a top of the line accessory package which we put together and tested.
The drywall wood screws were hand selected by our installation experts because they drill into the enclosure very cleanly, without chipping the enclosure. The speaker wire is 14 gauge. This is way better than using 16 gauge. You can be 100 % sure that your enclosure will have a clean signal to the amplifier with this top of the line speaker wire. These spade terminals have also been hand selected by our installation experts to make the internal wiring simple, secure, and to run the audio signal cleanly.
1 YEAR
---