Package Includes:
(1) Audio Technica ATH-M70x Closed-Back Professional Monitor Headphones ATHM70x

(1) Rockville TubeHead Tube Headphone Amplifier Amp / 6K4 Tubes / 16-300 Ohms/180mW

---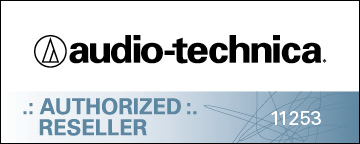 Description:

Pure. Professional. Performance.
The latest addition to the M-Series line, the ATH-M70x professional studio monitor headphones feature proprietary 45 mm large-aperture drivers and are tuned to accurately reproduce extreme low and high frequencies (5 to 40,000 Hz) while maintaining perfect balance. They are ideal for studio mixing and tracking, FOH, DJing, mastering, post-production, audio forensics and personal listening. Crafted for lasting durability, the studio headphones provide excellent sound isolation and are equipped with 90° swiveling earcups for easy, one-ear monitoring.

M-Series professional monitor headphones deliver accurate audio and outstanding comfort, perfect for long sessions in the studio and on the go. Contoured earcups seal tight for excellent sound isolation, with minimal bleed. And the pro-grade materials are durable, yet comfortable. Find out why online reviewers, top audio engineers, and cult followers agree, M-Series is a combination of audio and build-quality that gets the job done. Hour after hour, year after year.
Features:
Audio Technica ATH-M70x Closed-Back Professional Monitor Headphones

M-Series flagship model, tuned for extremely accurate reproduction and carefully crafted using key metal components for lasting durability

Proprietary 45 mm large-aperture drivers with rare earth magnets and copper-clad aluminum wire voice coils

Extended response accurately reproduces extreme low and high frequencies while maintaining perfect balance

Circumaural design contours around the ears for excellent sound isolation in loud environments

90° swiveling earcups for easy, one-ear monitoring

Professional-grade earpads and headband provide excellent durability and comfort, and detach for easy replacement

Perfect for studio mixing and tracking, mastering and audio forensics

Fold-flat design for space-saving portability

Detachable cables (includes 1.2 m - 3.0 m coiled cable, 3.0 m straight cable and 1.2 m straight cable)
Specifications:
Type: Closed-back dynamic

Driver Diameter: 45 mm

Magnet: Neodymium

Voice Coil: CCAW (Copper-clad aluminum wire)

Frequency Response: 5 - 40,000 Hz

Maximum Input Power: 2,000 mW at 1 kHz

Sensitivity: 97 dB

Impedance: 35 ohms

Weight: 280 g (9.9 oz), without cable and connector

Cable: Interchangeable cables: detachable 1.2 m - 3.0 m (3.9' - 9.8') coiled cable, detachable 3.0 m (9.8') straight cable and detachable 1.2 m (3.9') straight cable


Accessories Included: Carrying case, 6.3 mm (1/4") screw-on adapter
---
Advantages of buying from an authorized seller:
Best prices - We sell all Audio-Technica Products at great prices

Full Factory Warranty

Lifetime Customer Service by Audio-Technica product experts


Guaranteed legitimate and authentic merchandise
Please note: If you purchase Audio-Technica from an un-authorized seller then you are taking a big risk. You will not have any manufacturers warranty, and there is no guarantee that the item is authentic, brand new, or even working.
---

Video of TubeHead:
Includes:
1 x Tube headphone amplifier
1 x 12V 1A US Power Supply
Manual and warranty card
Description:
The Rockville TubeHead headphone amplifier is one of the best sounding headphone amps available on the market. We use 6K4 tubes that are extremely high quality. We engineered this item to sound amazing with these tubes. The sound is so clear and warm that you will never want to take your headphones off.
The power output is 180 mW @ 32 ohm at 0.03% THD. The Tubehead by Rockville supports headphones from 16 ohms all the way up to 600 ohms making this headphone amp universal.
If you want the best sounding tube headphone amp on the market then make sure to check out the TubeHead by Rockville.
(Please note we compared our model to some other ones on the market and there are some brands who were writing crazy specs like 2,000 mW but their amp was not even nearly as powerful or warm sounding as ours). If you want the best product from an honest company this is it.
Features:
Rockville TubeHead Tube Headphone Amplifier
Tube: 6K4 (These are great quality and engineered to sound best in this amp)
3.5mm audio line input
RCA line input
6.35mm headphone output
Perfect for 16 ohm to 600 ohm headphones
Power Output: 100mW@16Ω, 180mW@32Ω, 112mW@64Ω, 64mW@120Ω, 27mW@300Ω
The above are true power ratings at 0.03% THD. Please note some other brands put ratings like 2000mw but that would be at 10 % THD and at a higher voltage which is not a normal listening condition
THD: 0.03%
S/N Ratio: 106dB
Volume control knob
Toggle Switch on/off
Selectable Line 1 and Line 2 input selection switch
Power light indicator
Gain: 1.89 dB with 0.775Vrms input @ 32ohm impedance
Crosstalk: 70 dB
DC Power Supply: 12V 1A
Universal 110/220 power supply for worldwide use
Unit Weight: 1.02lbs
Unit Size: 3.94 x 3.74 x 0.9 inch ( L x W x H)
Full List of Replacement Tubes:
6J1
6AK5
6BC5
403A/B
5654
EF95
CV850
6J2
6AS6
CV2522
CV4011
6J3
EF94
CV848
6BC6
6AG5
6J4
6136
6BX6
6AC7
6AU6
6J5
CV2521
6F36
6AH6
6AN5
6K4
EF93
6K5
6K4П
6BA6
6DA6
5749
---
2 YEAR
---