Package Includes:
(1) Audio Technica AT2020USB+ PLUS USB Recording Mic w/Headphone Output +Mix Control
(1) Rockville RockShield 1 Studio Microphone Isolation Shield w/Sound Dampening Foam
---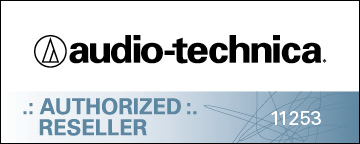 Authorized Audio-Technica Dealer!
Description of AT2020USB:
Equipped with a USB output, the AT2020USB+ is designed for digitally capturing music or any acoustic audio source using your favorite recording software. The microphone offers the critically acclaimed, award-winning sound of the AT2020, with studio-quality articulation and intelligibility perfect for singer/songwriters, podcasters, voice-over artists, field recorders, and home studio recorders.

The AT2020USB+ features a built-in headphone jack with volume control that allows you to directly monitor your microphone signal with no delay. It also offers mix control that blends microphone and pre-recorded audio. The microphone's cardioid pickup pattern delivers excellent off-axis rejection, while its A/D converter with a 16-bit, 44.1/48 kHz sampling rate ensures extremely articulate sound reproduction.

Audio-Technica's state-of-the-art design and manufacturing techniques ensure that the microphone complies with the company's renowned consistency and reliability standards.
Features:
AT2020USB+ Cardioid Condenser USB Microphone
Condenser microphone with USB output for digital recording
High quality A/D converter with 16 bit, 44.1/48 kHz sampling rate for superb audio
Headphone jack with volume control allows you to monitor the microphone signal with no delay
Mix control allows you to blend your microphone signal and pre-recorded audio
High-output internal headphone amplifier delivers superior clarity and musical detail as well as more volume overall
Smooth, extended frequency response ideally suited for podcasting, home studio recording, field recording and voiceover use
Compatible with Windows 7, Vista, XP, 2000 and Mac OS X
Tripod desk stand with folding legs for secure and easily portable tabletop use
Details:
ELEMENT: Fixed-charge back plate, permanently polarized condenser
POLAR PATTERN: Cardioid
FREQUENCY RESPONSE: 20 – 20,000 Hz
POWER REQUIREMENTS: USB Power (5V DC)
BIT DEPTH: 16 bit
SAMPLE RATE: 44.1/48 kHz
VOLUME CONTROL: Mix control; Headphone volume control
WEIGHT: 386 g (13.6 oz)
DIMENSIONS: 162.0 mm (6.38") long, 52.0 mm (2.05") maximum body diameter
OUTPUT CONNECTOR: USB-type
HEADPHONE OUTPUT POWER: 130 mW (at 1 kHz, 10% T.H.D., 32 ohm load)
HEADPHONE JACK: 3.5 mm (1/8") TRS (stereo)
ACCESSORIES FURNISHED: Pivoting stand mount for 5/8"-27 threaded stands; 5/8"-27 to 3/8"-16 threaded adapter; soft protective pouch; tripod desk stand; 10' (3.1 m) USB cable
Advantages of buying from an authorized seller:
Best prices - We sell all Audio-Technica Products at great prices
Full Factory Warranty
Lifetime Customer Service by Audio-Technica product experts
Guaranteed legitimate and authentic merchandise
Please note: If you purchase Audio-Technica from an unauthorized seller then you are taking a big risk. You will not have any manufacturers warranty, and there is no guarantee that the item is authentic, brand new, or even working.
---
What's In The Box:
3 Panel Mic Isolation Shield
Hardware to Mount unit to your mic stand
5/8" Mic Adapter and 3/8" Mic Adapter

All metal Tripod Desktop mic attachment
---
Video of RockShield 1:
Description:
Rockville's RockShield 1 compact studio microphone isolation shield is the latest addition to our ever growing line of Pro Audio studio accessories. Featuring 1.5-inch-thick high density acoustic foam, the RockShield1 keeps unwanted outside audio waves and vibrations from affecting your recording. By creating an acoustic boundary around the microphone, vocal audio flow is improved. Your voice is redirected to the microphone, while room reflections are prevented from directly entering the recording area. The end result is you will achieve a crisper and cleaner sound. This shield can be mounted to compatible microphone stands or used in a fixed location, like a counter top or tabletop. Easy installation and studio quality performance will quickly make the RockShield 1 your go-to sound dampening isolation shield.
Features:
Rockville RockShield 1 Studio Microphone IsolationShield with Sound Dampening Foam

Number of Panels: 3 Pieces

Dimensions Each Panel: 8.2'' x 4.5'' inches

Dimensions Assembled Unit: 11'' x 4.3" x 16.3" inches

Keeps Excessive Room ambience and Off Axis Sound from interfering with your microphone when recording acoustic and vocal tracks

Isolates Directional Microphones from Off Axis Coloration

Limits External Bleed from Unintended Sound Sources

1.5" Thick High Density Pyramid Acoustic Foam

Front and a vented metal back plate for the Best Noise Reflection Reduction

Can be used in fixed location

Stand Mountable

Provides Vocal Booth Style Recordings with Minimal Footprint

Professional Studio-Grade

Rugged Finish Makes This Easy to Transport

Tri-Pod Foot Design for Stability on Flat Surfaces

3/8" Die-Cast Metal Threads

Mic Stand with 5/8" Adapter

The shield frames are made of high strength die cast aluminum

Net plates are made of high grade steel

Net Weight (Without Tripod Stand): 1.1 lbs

Net Weight (With Tripod Stand): 2.0 lbs

1 YEAR
---